Viola Davis expands family
Viola Davis revealed some great news at the premiere of her new movie The Help. The actress told E! News that she and her hubby of 8 years, Julian Tennon, are expecting.
"Yes, we're about to adopt a baby," the actress said, adding that the couple plans to adopt "domestically."
This will be the first couple's first child together, but Julian has kids of his own from previous relationships.
***
Rick Ross buys into Wingstop
Rick Ross is getting into the chicken game. It's been announced that the "Maybach Music" rapper has decided to add Wingstop to his financial portfolio.
"After tasting Wingstop's signature lemon-pepper flavored wings in Miami, I knew this was a franchise I wanted to add to my investments," Rick said in a statement.
Reportedly, his first franchise will open in Memphis this fall, but no official grand opening has been set yet.

***
Nicki Minaj might fly solo for 'Pink Friday' follow up
When Nicki Minaj hits the studio this fall to begin recording her second album, she might be there alone. The Pink Friday rapper told MTV News that she's not sure whether or not she'll have any guests on her next studio project.
"I don't know, I don't think I'm hitting up anybody for features for this sophomore album," she said before sharing that one of her alter egos could pop up on the album. "Roman … possibly. But I never give away all my secrets."
***
Eddie Murphy to star in "Hong Kong Phooey'
McGruff the Crime Dog ain't got nothing on him! According to The Hollywood Reporter, Eddie Murphy will provide the voice of Hong Kong Phooey when the canine Kung-Fu master makes his way to the big screen.

Hong Kong Phooey will be based on the '70s cartoon from Hanna-Barbera, in which a dog is granted mystical powers that allow him to walk, talk and use Kung-Fu to fight crime. Reportedly, the film will be a mix of animation and live-action, but there's no word on when the project will go into production.

In the meantime, check out the video below to see what Eddie will be working with when he brings Hong Kong Phooey to life.

***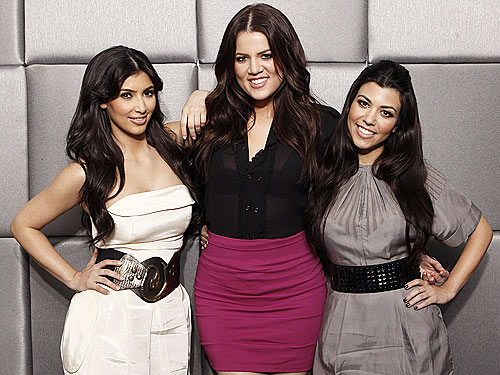 Kardashians base new book on their family
The Kardashian sisters are pulling from personal experience to pen their new book, Dollhouse.
Kim announced on her blog that she, along with sisters Kourtney and Khloé, are penning a novel about life in the spotlight. The soon-to-be-married reality TV star admitted that some of the scenarios have been inspired by true stories.
"The novel is based on our lives but we've added a lot of crazy fictional twists and turns," Kim wrote on her blog. "You'll have to decide for yourself which story lines are true to life, and which ones we dreamed up."
There's no word on when Dollhouse will be coming out, but the release date can't come fast enough for the Kardashians. "We can't wait," Kim said.
***
Ice-T narrates 'Rock' doc for VH1
VH1 will examine the link between crack cocaine and hip-hopin the upcoming documentary, Planet Rock: The Story of Hip Hop and the Crack Generation.

Ice-T narrated and executive produced the special, the first of its kind, which will debut September 18 at 10 p.m. on VH1. Planet Rock will feature the firsthand accounts of pushers-turned-rappers while showing how crack affected society as whole.

Planet Rock: The Story of Hip Hop and the Crack Generation, which also sheds light on the drug's lasting effects on American culture, will be set against the backdrop of some of hip-hop's most popular cuts from the 1980s when the drug was first introduced.

***
'Black Dynamite' heads to Adult Swim
Michael Jai White, Kym Whitley and Tommy Davidson are back to reprise the roles they originated in the film Black Dynamite, but this time they'll just be lending their voices.
Cartoon Network's Adult Swim will be airing the animated series in 2012.
It's not clear whether this pilot will air in its entirety on the network, but here's hoping the show is a little funnier.
Warning: This preview is for adults only.

***

'Lopez Tonight' cancelled
Another minority's late night TV show bites the dust.
Arsenio did it best, but after only two seasons, it seems "Lopez Tonight," hosted by comedian and actor George Lopez, is headed toward the TV history books.
The announcement comes just weeks after rumors that BET's "The Mo'Nique Show" was also being cancelled.
George addressed the news with humor.
"Like every TV star before me, I'mma find some crack. I'mma get on the pipe! Lose that unwanted 110 pounds I wanted to lose. But I'm taking it good, I'm straight. Believe me, I'm fine," he said.
Watch more of his comments below.


***

Tootie hits the big screen
Kim Fields, who's enjoyed a successful career on TV sitcoms, including "Good Times," "Facts of Life" and "Living Single," is making her way to the big screen.
The actress has secured a role in the upcoming What to Expect When You're Expecting.
Kim will play a social worker who helps a couple with their adoption, according to Entertainment Weekly.
The film, which also co-stars Chris Rock and Jennifer Lopez, is scheduled for release in 2012.

—Sonya Eskridge and Tracy L. Scott