Chris Brown shows off
Chris Brown couldn't decide what to wear for Halloween. Should he be an alien or a pothead?
Before deciding on which costume to wear, he modeled one of his looks in a very revealing tweet. "I don't think I can wear this costume tonight! Gonna change!" he wrote before posting the pic below. Uhh, yeah, Chris. Changing sounds like a great idea.

***
Kardashians supporting Kim
Kim Kardashian's sibling are sticking up for her hours after the newlywed reality star decided to end her 10-week marriage to Kris Humphries.
"Reading some these comments r so hurtful. Im grateful 4our fans who understand & r being respectful. Hate is disgusting. Love is everything," Khloe said in a defensive post on Twitter. "Thank God for family. We are strong and we will only become closer! I love YOU."
Kourtney was a little gentler in her defense of Kim. "Our sister is going through a difficult time but we're a close family and are sticking together like always," Kourtney blogged. "We appreciate everyone's kindness and support. @KimKardashian, we love you."
Kim's brother, Rob Kardashian, also commented on the abrupt divorce after coming off of the "Dancing With the Stars" episode on Monday. "Obviously she's going through a lot right now," he told People.com, "but she has her family and we're very supportive of everything she does and every decision that she makes."
***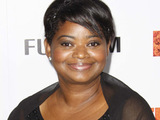 Octavia Spencer cast in Diablo Cody flick
Fresh off of her amazing performance in The Help, Octacia Spencer has booked a spot on the cast of Diablo Cody's directorial debut.
According to The Hollywood Reporter, Octavia will play a card dealer at a Las Vegas Casino in The Mandate Project. She'll star alongside Russell Brand and Julianne Hough.
***
Viola Davis adopts daughter
Viola Davis has found new purpose in her life now that she's a mom. The Oscar-nominated actress and her husband recently brought home a baby girl, and Viola couldn't be happier.
"It's just given me purpose, you know?" she told CNN. "After a while your life can't be about hair and make-up and what film you're doing next and if you're good or not and reviews."
Everything seems to be going great for the 46-year-old first-time mom, who was overjoyed to expand her family.
"You know, they say the meaning of life is to make a difference in the life of a child and that truly is the case," she said. "She's given me so much … I mean, marrying my husband was the first big joy of my life and this child has just increased it."
***
Posthumous Amy Winehouse album to be released
Amy Winehouse's rep has announced that the singer's estate will release a posthumous album in the United Kingdom.
Lioness: Hidden Treasures will be packed with previously unreleased material, including the original version of "Valerie" and a collaboration with Nas titled "Like Smoke."
Amy's father told CNN that a portion of the album sale will be donated to the Amy Winehouse Foundation, which was set up to "help children who are suffering from economic disadvantage, who are ill [and] who are suffering with drug abuse."
***
Raven-Symoné blames past weight on stress
Actress Raven-Symoné said the difference between her lifestyle now and 35 pounds ago is that she's no longer as stressed out.
The former child star said having the responsibility of others' salaries and livelihood on her shoulder didn't help her diet.
"When you're 15 and you have the weight of 150 people's paychecks … on your shoulders … some people break out, some people gain weight, some people lose weight, some people's hair falls out," she said.
"I like dressing and fried chicken, gravy," she continued.
Listen to her below.

***
Does Shaquille O'Neals book expose Kobe Bryant?
According to an account included in his new book, Shaq Uncut: My Story, Shaquille O'Neal and former L.A. Lakers team member Kobe Bryant once nearly came to blows.
Apparently, Kobe was upset that Shaq wasn't there to support him after Kobe's affair was made public.
"Kobe stands up and goes face-to-face with me and says, 'You always said you're my big brother, you'd do anything for me, and then this Colorado thing happens and you never even called me,'" the excerpt reads. "I did call him. … So here we are now, and we find out he really was hurt that we didn't stand behind him. That was something new. I didn't think he gave a rat's a$$ about us either way. 'Well, I thought you'd publicly support me, at least,' Kobe said. 'You're supposed to be my friend.'"
The book is available Nov. 15 on Amazon.com.

***
—Sonya Eskridge and Tracy L. Scott