Jennifer Hudson speaks on size 0 claims
Jennifer Hudson is setting the record straight about her dress size. In the upcoming issue of Ebony, the "No One Gonna Love You Singer" is speaking out against the criticism about being proud of her new physique.
"I never said I was a size zero," she said, clarifying that Joy Behar of "The View" was the one who made the claim about her dress size. "I got crucified by I don't know how many people who cussed me out because they said I'm putting out the wrong message and telling people to be a size zero."
And the public scrutiny didn't end there for Jen, who has also been asked if she underwent surgery to slim down.
"I got called every name under the sun and was told, 'You should be ashamed of yourself for talking about being that size,'" Jen stated before challenging haters to remain silent until sher explicitly states what size she's currently slipping into. "Well, honey, when I do say I'm that size, then give me that speech. I never said that."
***
Queen Latifah wants a family
Although she's had a history of remaining mum about her love life, Queen Latifah revealed that she does want a family someday.
'I'm definitely going to adopt—or have—a child. I've wanted to adopt since I was 17 or 18-years-old," she admitted to More magazine.
It's not clear whether Latifah is already in the process of becoming a mom, or if it's still on her to-do list. Either way, the rapper turned entertainment power house plans to be a mom.
She'll be showing off her motherly instinct yet again as she stars in Joyful Noise, due out January 13, 2012, with KeKe Palmer and Dolly Parton.
***
Nicki Minaj teams with MAC Cosmetics again
Nicki Minaj is getting dolled up for a good cause. The "Super Bass" rapper, who created a special lipstick with MAC Cosmetics last year for Pink Friday, has become one of the faces of MAC's Viva Glam 2012 Campaign.
Nicki brought a little haute couture to her hog as she posed on a motorcycle alongside Ricky Martin. Proceeds from the sale of Viva Glam products will go towards supporting the fight against HIV/AIDS. Check out there ad below!

***
Rihanna: Being single 'sucks'
All work and no play makes Rihanna (and her lady parts) a dull girl. During her recent visit to "The Ellen DeGeneres Show," the songbird said she needs a man.
"I'm not dating anyone right now. I'm not dating at all," RiRi revealed. "I'm not necessarily happy being single. It's not really that cool."

She's been romantically linked with any and every man she spends more than five minutes with, but Rihanna confessed that her love life is kind of slow these days because of work.
"It sucks but it is what it is. I do put a lot into my job—most of my time, if not all of it. It definitely affects my personal life. My personal life is pretty much non-existent, which is not good, not for the long run. Not for me, not for 'her,'" Rihanna explained, while pointing between her legs.
If RiRi had it her way she knows exactly what kind of guy she'd be spending her free time with—once she has some that is!
"I like men that are more aggressive, but mysterious, but I like a man to be very sure," Rihanna described. "I like them to be sure of themselves and know that you're the man. I'm the lady and the only way for us to make this work is for us to play our roles. You know, I can't really be the man for you. I don't want to have to be. I'm the man at work all the time."
***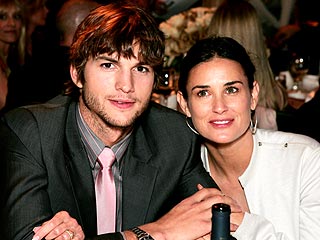 Demi Moore and Ashton Kutcher break up
After six years of marriage. Demi Moore and Ashton Kutcher have decided to get a divorce.
Demi issued a statement on Thursday, announcing, "It is with great sadness and a heavy heart that I have decided to end my six-year marriage to Ashton."
The split comes amid an on-going rumors of marital infidelity. The gossip was sparked by reports that Ashton had cheated on the 49-year-old actress with a 23-year-old woman in San Diego on the couple's sixth wedding anniversary. Ashton, 33, has denied that such an affair ever happened.
Shortly after Demi revealed their breakup, Ashton tweeted,"I will forever cherish the time I spent with Demi. Marriage is one of the most difficult things in the world and unfortunately sometimes they fail. Love and Light, AK"
—Sonya Eskridge