Fox execs concede on Red Tails
How's that taste, naysayers? Although George Lucas was met with much opposition while trying to produce Red Tails, his detractors are now eating their words.
Executives at 20th Century Fox are admitting that George's confidence in the film, which took him two decades to get on screen, was spot on.
"I couldn't tell you how right he was," Fox exec Chris Aronson told E! News on Sunday. "This is why he's George Lucas. He was right."
One can only imagine exactly how George's countless meetings on the movie may have gone. Now those speculations have joined the "S#*t [insert group here] Say" meme.


***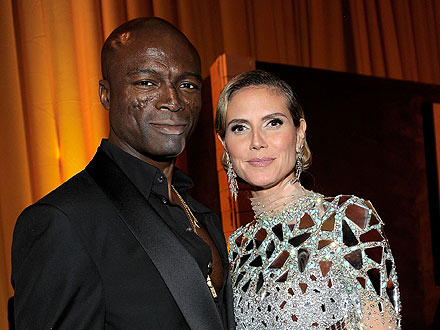 Seal speaks on split
Heartbreak isn't stopping Seal's hustle. Just a day after announcing his split from model Heidi Klum, the singer sat down with Tavis Smiley to talk about his new album. Seal described the project as having a very romantic feel, which lead Tavis to ask about the breakdown of his marriage.
Seal said that while he and Heidi are no longer together, the love is still there. "It's a difficult situation that we have to handle right now—and it's never easy—but in terms of our love and respect for each other, that hasn't changed at all," he explained.
As such, the "Kiss From A Rose" crooner also said that the public shouldn't expect to see them get nasty with each other.
"What one has to do in this situation is remain civil and to retain one's dignity and to be professional and to understand that we are not the only people on this planet that go through this," Seal told Tavis. "It is just unfortunately a chapter of life."
He added, "We're just not those kind of people."


***
Whitney Houston broke?
Has Whitney Houston run into financial trouble? RadarOnline.com reports that the diva is flat broke.
"Whitney's fortune is gone," a source close to Whitney dished. "Music industry heavy hitters are supporting her and her label is fronting her cash against her next album, but no one knows when that will be released."
Supposedly Whitney has burned through all of the money she's earned over the years, and her finances are in a precarious situation. "She might be homeless if not for people saving her. She is broke as a joke," the insider said. "She called someone to ask for $100."
Whitney's camp has yet to release an official statement on the gossip.
***
Kim Kardashian refers to marriage as 'business'
She may have been trying to kill the rumors that her quickie marriage to Kris Humphries was just for show, but all most viewers heard was Kim Kardashian compare her marriage to a corporate merger.
"If this was a business decision and I really made all that money that everyone was claiming that we made off this wedding and if the wedding was fake and just for TV, I'm a smart businesswoman, I would have stayed married longer. This was a bad business decision," Kim said Monday on "Live! With Kelly."
When asked why she didn't stick it out and stay married just a tad longer than 72 days, Kim said she wanted to bail before things got more complicated with children.
"I definitely tried everything I felt like I could, but then I also would hear stories of people who had kids and started this life and stayed married for years and ended up it not working out. I just felt like, if I feel in my heart that this isn't right then why wait years to have the same result."
Watch "Live! With Kelly" below.

***


Solange Knowles wants revenge on Beyoncé
Solange told InStyle magazine that she wants to give big sister Beyoncé a taste of her own medicine.
"This may sound awful, but I'm excited to let the baby do whatever it wants, in the same way my sister's done with my son," she said jokingly.
"I'm going to get her back for all those late-night popcorn sessions and just spoil my child to no end!" she said.
Solange has already happily donned her auntie hat. Shortly after Blue Ivy's birth, she took to Twitter in defense of her sister, whose pregnancy was questioned by many.
"I've been doing my best at keeping my mouth shut … but the ignorance is really sad and upsetting," Solange tweeted last month. "However, the pure happiness and joy I've witnessed and experienced helps me to keep my mouth shut."
—Sonya Eskridge and Tracy L. Scott