Tyra Banks graduates
This seasons hottest accessory? According to Tyra Banks, it's a college degree!
The model-turned-media-mogul announced her graduation from Harvard with a couple of pics of her getting her degree. Check on of them out below!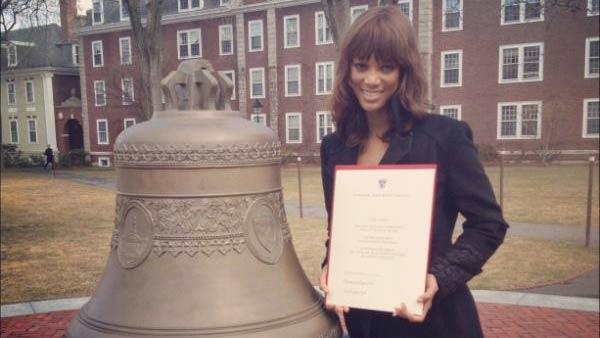 ***

Nicki Minaj drops 'Roman Reloaded'
Nicki Minaj is bringing her alter ego Roman back with a bang. The lady rapper has just dropped the Lil Wayne-assisted single "Roman Reloaded," which is laced with gunfire.
Nicki also took shots at Eric Williams of "Basketball Wives" and Chris Bosh on the track, which you can listen to here!

***
Jay-Z introduces new act
Jay-Z is back to work at Roc Nation! The new dad dropped by Z100 in New York to introduce the world to his new act Rita Ora.
Rita Ora has been with Roc Nation for about two years now, but the British singer has just dropped her latest single, "Party and Bulls#*t."

***
Kyla Pratt shows off her daughter
Kyla Pratt is showing off her daughter in a new set of photos that have been laid out like a comic strip.
In the collection below, it's very clear that 1-year-old Lyric isn't trying to get involved in anyone's foolishness.

***
Tia and Tamera talk baby fever
Tamera Mowry-Housley might be ready for a baby! When she and twin sister Tia Mowry-Hardrict dropped by "The Revolution," Tim Gunn wanted to know if the newlywed was thinking about starting a family.
After admitting that she's got a slight case of baby fever, Tia had to offer up a little caveat to excited fans.
"Just let me tell you guys, this girl changes her mind like every two weeks," Tia said. "I really want her to have a baby, so I don't want to get my hopes up."
"I think being with Cree for six days has helped me. And plus, Adam and I have been married for almost a year now, so I think its about time for is to start thinking about it now."

***
—Sonya Eskridge