Chris Brown dances to Rihanna
Now that Chris Brown and Rihanna are on good terms, he can openly enjoy her music again. The "Turn Up The Music" crooner was recently spotted at a club in Orlando singing and dancing to Rihanna's "We Found Love."

Before you start thinking that his girlfiend Karrueche Tran is on her way out, though, it looks like Chris whipped up a meal for her. The singer tweeted a pic of himself frying up some chicken in the kitchen: "I don't know what the he!! I'm doing! Hungry????"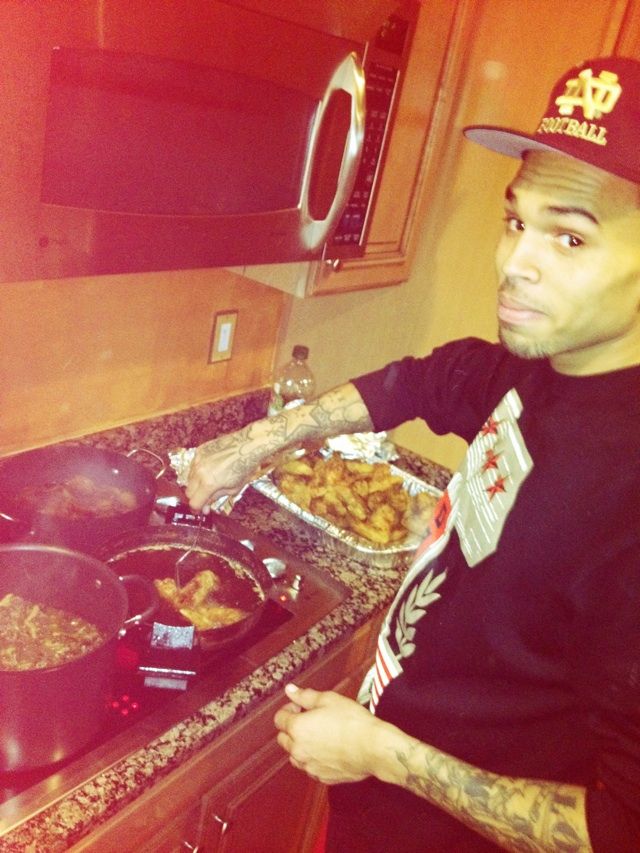 ***
Melanie Fiona does 'Jimmy Kimmel Live'
Melanie Fiona made her way to late night TV to promote her new album. She dropped by "Jimmy Kimmel Live" to perform her new single "4 AM" for the crowd while promoting her upcoming album The MF Life.

***
Erykah Badu banned from Malaysia
Erykah Badu's got no hard feelings after being banned from performing in the country of Malaysia.
The Associated Press reports that Erykah was supposed to do a show in Kuala Lumpur today, which more than 1,500 people had bought tickets to see. However, Malaysia's minister of information stated on Tuesday that the show could not go on because of some offensive body art in a promotional pic.
The shot included an image of the Arabic word for "Allah" painted on Erykrah's shoulder, which the minister deemed as "an insult to Islam."
"It's sad, because we traveled a long way," Erykah said at a press conference. "But I'm totally understanding of (the minister's) protection of the laws and its people. He doesn't want anything to happen. I'm good with that."
There's no word on when, or if, the show will ever be made up, but Erykah said she welcomes a chance to sing for Malaysia again someday.
***
Michelle Obama lifts her voice
Michelle Obama will be sitting down with BET this sunday for a very special on conversation on "Lift Every Voice."
The chat, airing March 4 at 10 a.m., will cover everything from her family and fitness to the power of prayer in her life.
During the show, the first lady will explain why she chose to tackle the issue of battling childhood obesity.
Gospel great Yolanda Adams will also appear on the show to supply some music for the momentous episode.
***
Centric remembers Teena Marie
More than a year after her sudden death, Centric will remember Teena Marie in a new documentary.
"BEING: Teena Marie," which honors the life and legacy of the Ivory Queen of Soul, will feature her never-before-seen final interview.
Tune in March 4 at midnight to see what she had to discuss during the chat, which was filmed as part of "The Hippest Trip In America: Soul Train."
***
Mario Van Peebles presents We The Party
Mario Van Peebles is giving America an unfiltered look at its youth in the upcoming comedy We the Party.
We the Party, due out April 6, examines teens and youth culture as it is. It centers on five ethnically diverse friends that attend a Los Angeles high school. The group will face the usual drama as they juggle love, money, social media, finding themselves and thinking about their future.

***
Kid Cudi and Dot da Genius release WZRD
Kid Cudi and Dot da Genius are proud to present their new album WZRD.
The rock-inspired alum was the duo's attempt to do something different and experiment with a new vibe. "We're just trying to push the envelope and put people up on a new sound. Each band has their sound, and WZRD is something that's very ground-roots," Cudi said in a statement.
WZRD is now available for download on iTunes. Hopefully that will make up for what Cudi believes was undershipment of the album, which would make it "tough to find one in the stores."
"Ok so just a heads up, my weak ass label only shipped 55k physicals cuz they treated this like some indie side project tax right off," he warned his followers on Twitter. "Thats dick. It's a way better album than that."
He added, "Who mad??? not me and @DotDaGenius."
And Cudi thinks his label could have done a better job with advertising for the album. "I apologize on behalf of my weak ass major label. And I apologize for the lack of promo, again, my weak ass major label," he tweeted, before announcing that his next album will be on hold for two years.
"They tried to rush me thru this so i can just give em another MOTM, but guess what?" Cudi explained. "F*ck that, next album is WZRD. MOTM3 on hold til 2014"
Since it looks like this may be the only new music fans may get out of the rapper, check out the tracklist WZRD below!
1. The Arrival
2. High Off Life
3. The Dream Time Machine
4. Love Hard
5. Live & Learn
6. Brake
7. Teleport 2 Me, Jamie Feat. Desire
8. Where Did You Sleep Last Night?
9. Efflictim
10. Dr. Pill
11. Upper Room
—Sonya Eskridge