Jada releases "Burn" video
Jada Pinkett Smith loves her some Will Smith! The actress has finally released the video for "Burn," a song she dedicated to her hubby. Before she launched into the visual, Jada explained (in Spanish) why the song means so much to her.
"This song that I'm about to sing is very important to me because it's the beginning of a new love for my husband," said Jada. "After 17 years, I never though I could love him even more. Here's 'Burn.'"

***
Nicki Minaj teases new album
It sounds like Nicki Minaj is exploring her pop side with her upcoming album Pink Friday: Roman Reloaded.
Nicki has just leaked snippets of her album, which runs the gamut from rapping about ratchet chicks "Stupid Hoe" to singing love ballads in "Right By My Side" (her new single with Chris Brown).
Check out the preview of Pink Friday: Roman Reloaded below!

Here's the tracklisting in case you're wondering which song you're listening to.
1. "Roman Holiday"
2. "Come on a Cone"
3. "I Am Your Leader" – ft. Cam'ron & Rick Ross
4. "Beez in the Trap" – ft. 2 Chainz
5. "HOV Lane"
6. "Roman Reloaded" – ft. Lil Wayne
7. "Champion" – ft. Nas, Drake, & Young Jeezy
8. "Right By My Side" – ft. Chris Brown
9. "Sex in the Lounge" – ft. Lil Wayne & Bobby V
10. "Starships"
11. "Pound the Alarm"
12. "Whip It"
13. "Automatic"
14. "Beautiful Sinner"
15. "Marilyn Monroe"
16. "Young Forever"
17. "Fire Burns"
18. "Gun Shot" – ft. Beenie Man
19. "Stupid Hoe"
Deluxe Edition
20. "Turn Me On"

21. "Va Va Voom"

22. "Masquerade"
***
Romeo bares all for 'Brave'
Romeo Miller is showing off on the cover of Brave magazine, where he appears topless. The rapper-actor chats with the magazine about how the music industry has changed over the years.
"I feel that the next generation is a lot younger and more talented. With technology you can now be your own record company, director, producer, etc," Romeo said. "If you have talent you can display it on the Internet and the world will tell you their thoughts in the matter of seconds! Look at how many new artists have emerged from YouTube videos."
But if you could care less about his musings on the music business, here's Romeo's cover!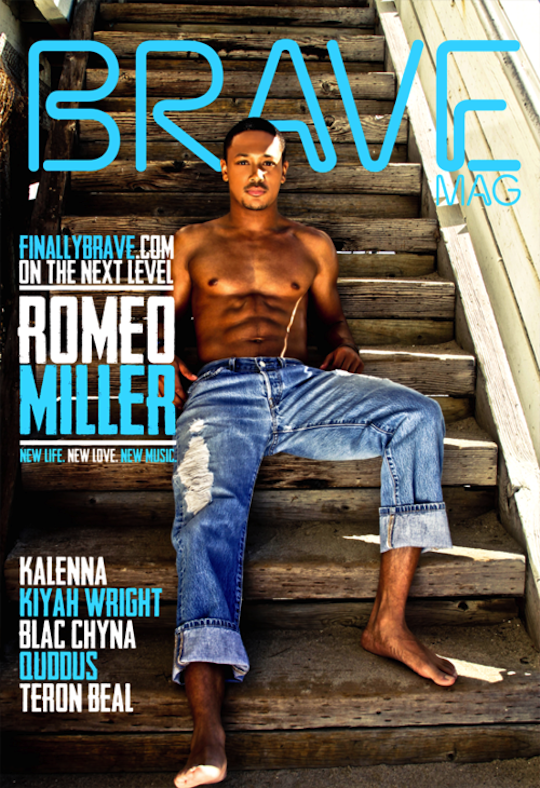 And the heartthrob also gave a few hints about what he's looking for in a woman.
"I love a smart girl and a girl who loves her family! I do everything for my family and it's nice to have somebody who understands how important that is to me. I can't wait to have a little Romeo Bunch one day," Romeo joked. "Physically I love eyes. The eyes just say so much about someone. I also love nice curves and a woman who knows what she wants out of life. Someone with focus, determination and is God-fearing. My biggest turn-off is if a woman doesn't have a real passion for something… and bad breath!"

***
Janet Jackson given racist gift
Everyone's gotten a gift they hate, but Janet Jackson got one that was offensive. While she was out on the road, the diva was given a blackface doll by a fan, which promoted Janet to ask her fans a pointed question on Twitter.

—Sonya Eskridge