Tami Roman bonds with mom
The last episode left off on a sad note as Tami Roman told her mom that she felt something was lacking in their relationship. On Monday's episode, they'll open up to each other and form a stronger bond.
Meanwhile, things seem to be going much better in Royce Reed's love life as she officially introduced her boo NFL baller Dezmon Briscoe. And the cherry on top? Royce's dad actually likes Dezmon!

***
Whitney Houston investigation closed
The investigation into Whitney Houston's death has come to a close. Billboard.com reports that authorities have wrapped up their probe without finding any evidence of foul play.
In fact, detectives didn't find anything to suggest that Whitney died as the result of an accidental drowning. The coroner's office concluded, however, that heart disease and cocaine use did contribute to her passing. A detailed report on the case was not released, but authorities did put out audio of the 911 call made by hotel security the night she died.

***
Jennifer Williams talks Evelyn and Eric
Jennifer Williams said Evelyn Lozada is no longer the type of person she could be friends with. It has been all-out war between the former BFFs for months. On the upcoming episode of "Basketball Wives" Evelyn's actually going to jump across a table to hurt Jennifer!
As Jennifer told Shade 45 recently, Ev has become a completely different person and she's not sure why or how the change occurred.
"I don't know if it's for TV or if she's real angry," Jen said. "I don't know what's really going on with her but that person jumping on top of tables and doing all that is not the person I know. I would never be friends with someone like that. It's not even my personality."
Jenn is also still in the midst of a divorce from her estranged hubby Eric Williams, who she revealed has tried to make up with her. But that's only on a good day. "Yes and no. One minute it's like he loves me, the next minute he hates me," Jen dished when asked if Eric had attempted a reconciliation. "It depends what way the wind blows that day. I'm over it."

***
Beyoncé praises Michelle Obama
Even Beyoncé knows that sometimes, you've just got to give a lady her props. The "Run the World (Girls)" diva penned an open letter to first lady Michelle Obama, expressing her gratitude for being such a great role model for Black women–especially her new baby Blue Ivy Carter.
See what kind words Bey, who posted the letter on her website, had for the first lady!

***
Evelyn Lozada makes a milkshake
First it was a T-shirt. Now it's a milkshake! Evelyn Lozada's "non-muthaf*ckin' factor" catchphrase has hit a whole new medium.
The "Basketball Wives" star hit up Millions of Milkshakes in Los Angeles yesterday to mix up her "Non Muthafu*kin Factor" treat. We've not sure what went into the concoction, but check her out with the finished product below!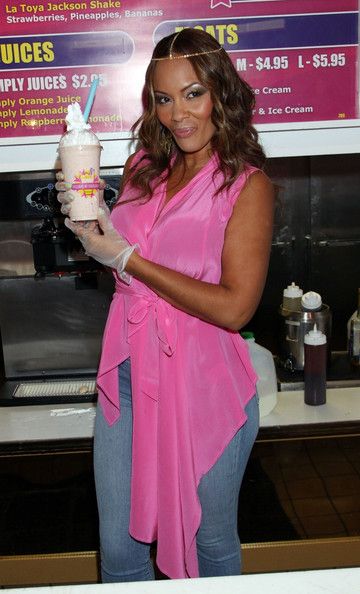 ***
J.Hud brings Ne-Yo to 'American Idol'
Jennifer Hudson returned to "American Idol" again and she brought along Ne-Yo to perform "Think Like a Man."
See how far Jennifer's come from her days when Simon Cowell told her she didn't have to be a music star!

***
Preview: June Ambrose takes on DaBrat
June Ambrose had quite a job on her hands when she decided to glam up DaBrat!
The celebrity stylist wasn't quite sure how she wanted to remake the rapper's look, but she knew she wanted a contemporary style that grabbed attention and made sense for DaBrat.
But from the looks of this clip, it seems like June is putting a lot more pressure on herself than necessary.

—Sonya Eskridge