Cissy Houston rejects Rihanna
If it's up to Cissy Houston, Rihanna will not be playing Whitney Houston in a biopic.
When Whitney's mom caught wind of news that RiRi wanted to play the diva, a source told the National Enquirer that Cissy said, "Over my dead body!"
She doesn't feel Rihanna, given her reputation, would be a good choice for the role. "Cissy believes Rihanna celebrates everything she hated about Whitney's life—the drugging, the boxing, the abusive relationship," the insider said.
"Cissy does not think Whitney should be represented by someone like Rihanna," the source added. "In spite of what anyone thought about Whitney, she sees her as a God-fearing Christian who loved the Lord."
And Cissy expects that the family will have some involvement in developing a biopic, should one ever go into production. "IF there is a movie made about Whitney, [Cissy] would insist on approving the actress," the tipster said. "And Rihanna certainly would NOT be on the list."
***
Nicki Minaj deletes her Twitter account
Nicki Minaj is giving fans the silent treatment! On Sunday, the Pink Friday: Roman Reloaded rapper deleted her Twitter account.
"Like seriously, its but so much a person can take. Good f–king bye," Nicki wrote before deactivating her page. Reportedly, she'd been wrapped up in a Twitter beef with a few of her fans before she shut down @NickiMinaj.
And it looks like her resolve to go mute has spread to another part of her online presence, as her official fansite, NickiDaily.com, now has a "closed" sign on the homepage.
***
Somaya Reece shows off new body
Somaya Reece looks like a new woman! The "Love & Hip Hop" star has revealed her new frame after getting breast reduction surgery.
Somaya announced her decision to get the procedure earlier this year because it was affecting her health. She's been keeping fans abreast of what she's been going through during recovery.
For example, showering is "a bit of a product" and she's got to sleep sitting up. Exercise is also out and she's had to change her diet a bit.

Even with all of that, though, Somaya seems pretty happy with the results, based on the pics she posted below.

***
Kanye West changes song title
Kanye West has gone in a new direction for his latest release "Theraflu." After getting some pushback from the medication brand, Yeezy has decided to rename the track "Way Too Cold."
On the song, Kanye confessed his love for Kim Kardashian, whom he'd been spotted with quite a bit after the song hit the web. All the alone time has many people wondering if they're an official couple now.
"Saturday Night Live" even spoofed the pair this weekend during a skit about the Trayvon Martin case.
***
Emily B gives her mom a makeover
"Love & Hip Hop" star Emily Bustamente is helping her mom rock a cropped look. The stylist is determined to show her mom, who has stage 2 cancer, that she can still be fly with no hair on her head.
Ever the fashionista, Emily modeled her mom after Amber Rose. "Everyone meet my beautiful Mami Diane…she said her new name is 'Emerald Lily'," Emily tweeted before posting the picture below.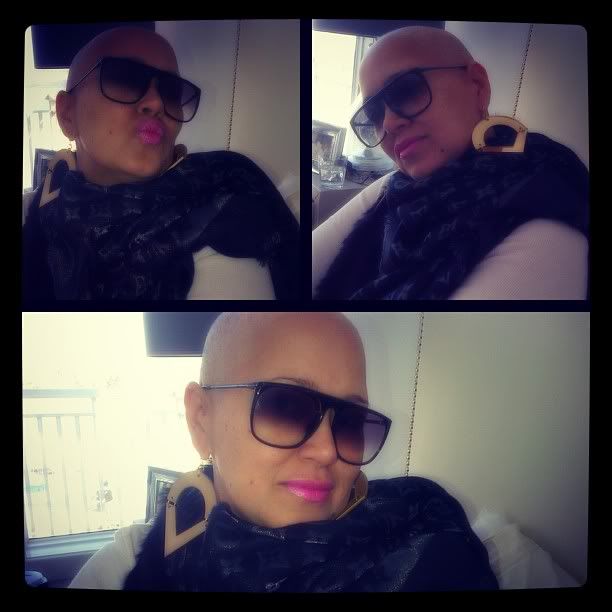 —Sonya Eskridge