Pilar Sanders has been locked up for allegedly assaulting her estranged hubby Deion Sanders.
Deion's fans on Twitter were alarmed to find the ex-NFL baller seeking support after claiming that Pilar and another person attacked him at home yesterday.
"Pray for me and my kids now!" he urged via Twitter. "They just witnessed their mother and a friend jump me in my room. She's going to jail n I'm pressing charges!"
Deion didn't explain what led up to the surprise attack, which apparently took place in front of their two sons. Supposedly, Pilar busted into the home she and Deion shared during their marriage before trying to jump him. Although he is believed to be Pilar's target, the former pro athlete is more concerned about how his children are handling the situation.
"I'm sad my boys witnessed this mess but I warned the police department here that she was gone try [to] harm me and my boys," tweeted Deion, who brought new girlfriend Tracey Edmonds to the Broadway premiere of A Streetcar Named Desire over the weekend.
Shortly after the incident, Deion tweeted a shot of himself and two of his sons in the aftermath of the altercation. "Filling out police reports now! Thank God for this platform to issue the Truth," Deion said in a caption.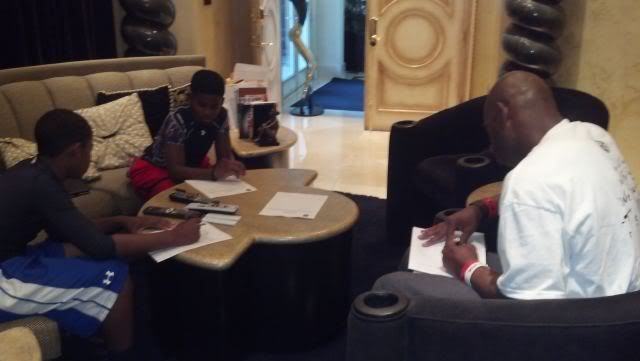 Pilar was booked for misdemeanor assault and family violence. Following her father's example, Deiondra Sanders tweeted a picture of Pilar's mugshot as proof that Pilar was in police custody and not in the hospital as initially reported.
Pilar, who was being held on $264 bond, must have known the mugshot would make the rounds on the blogosphere. She seems to have put on a fresh face of makeup before posing for her booking shot.
—Sonya Eskridge
Here's more: