The paparazzi have learned that you don't mess with Halle Berry's baby girl because she will snap!
The actress was spotted losing her cool while confronting photographers that were posted outside of Nahla's school in Los Angeles today.
Paparazzi snapped pictures of her cussing out cameramen, but it's not clear what happened to ignite her ire. It's suspected that someone may have gotten to close to her 4-year-old daughter.
"It is inappropriate for these people to stalk a child's school everyday," a source close to Halle told E! News.
"They pushed too far [today]," the insider added. "Halle felt that her daughter was being threatened. Having words with someone who is stalking your family is not out of line."
Pictured in a teal maxi dress and flipflops, Hall got in photographers face and even approached another's car and pointedly hollered at whoever was inside.
An incident report on the dust-up outside the Beverly Hills school was ever reported, so it looks like Halle was able to pick up Nahla after giving paps a piece of her mind.
This is not the first such incident where Halle has had to defend her child's privacy. In 2008, she filed a complaint against Fame Pictures for distributing shots of her and Nahla that were supposedly taken in public. She contended that the pics were actually snapped in her backyard and the agency complied with her cease-and-desist order.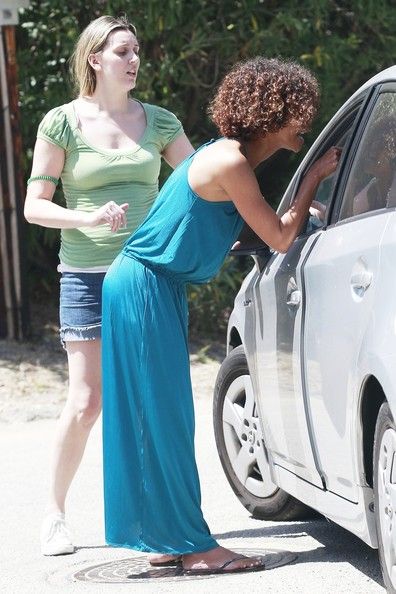 Check out Halle and other celebrity moms here!

Photos: Celeb moms bring out babies
http://s2smagazine.com/wp-content/uploads/2012/05/23111b93-180x180.jpg
http://s2smagazine.com/wp-content/uploads/2012/05/062612_fp_8572041_btn_berryhalle_nahlapickup_lrr_19_50120226165818120226170638-hollywoodlife-180x180.jpg
http://s2smagazine.com/wp-content/uploads/2012/05/beverly-johnson-talks-about-the-buzz-over-the-lane-bryant-lingerie-commercial-and-her-daughter-plus-size-model-anansa-sims1-180x180.jpg
http://s2smagazine.com/wp-content/uploads/2012/05/beyonce-blue-ivy_510-1-180x180.jpg
http://s2smagazine.com/wp-content/uploads/2012/05/solange-and-son-jasminebrand-180x180.jpg
—Sonya Eskridge
Here's more: