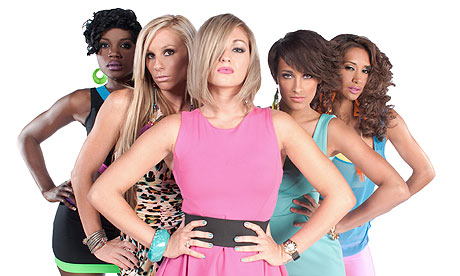 Mathew Knowles returns to a formula that worked for him before with a new girl group, this time from the UK.
The hit UK reality series, "Breaking from Above," premiered in the U.S. Monday on Teen Nick. The show, which features his new girl group From Above, became a big hit across the pond after its premiere last fall, and Mathew said that having the show premiere in the United States will provide "a great platform for the ladies."
The show follows Mathew as he tries to help the five girls: Ashley, Daisy, Seyi, Chelsey and Monique become real hit stars by undergoing his artist development program.
The program will include intense training in all aspects of becoming a hit star, which includes vocal, physical, choreography and media training. Together the girls will learn how to work and deal with each other on the road.
"The U.S. launch is very unique and interesting—all of the key players are from the U.S with the exception of the ladies, who all reside in London," he said.
Mathew has years of experience in managing girl groups such as: Blaque, Trin-i-tee 5:7 and of course Destiny's Child.
"Breaking From Above" airs daily on Teen Nick at 8:30 p.m. EST until June 29.
Watch an episode of "Breaking From Above" below.
—Kimberley Gladscoe