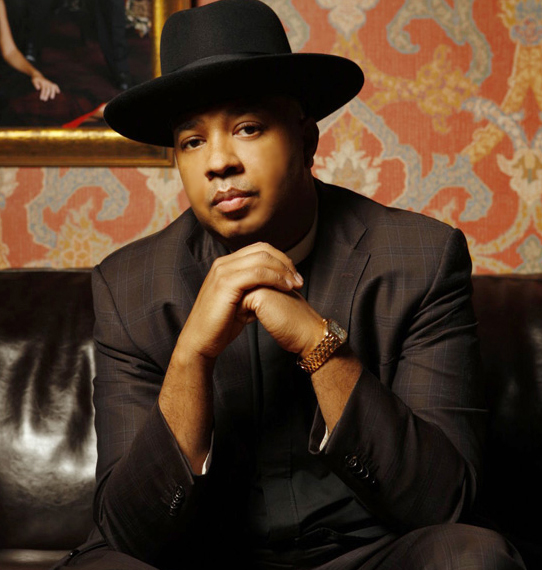 Add Rev. Run to the list of men that waited until he said I do to get down with his wife.
Ever saint has a past and every sinner has a future, and Rev. Run is no different. When he and Tyrese dropped Power 105.1 to visit "The Breakfast Club," the pair discussed how they brought their different ways of thinking together for the book Manology.
During their discussion, the topic of infidelity came up and the authors debate whether men are bred to cheat (Tyrese's position) or whether it's a choice, as Rev. Run believes.
In Tyrese's opinion, guys are expected and encouraged to sleep around. "Its just about how many [chicks you] can you run through. How much can you touch, and who can you touch," said Tyrese, who acknowledged that the same attitude does not apply to women.
"If I am one man on a football campus, a football player, and I am popular, I'm running through all of the cheerleaders, and all of the sexy girls on the campus, because they all want me," Tyrese explained, breaking down the difference in the way people look at promiscuous men and women. "If I am a popular cheerleader and I have sex with the whole football team, then you are every name in the book, including women calling you every name in the book."
But Rev. Run doesn't accept that mindset. In his opinion, sleeping around is something you do when you're young and dumb, but he feels that that should change as people mature regardless of gender. "The Bible says that when you get older, you walk away from those things," said Rev. "You want to look like Jay and Beyoncé. 'Run's House' didn't look so bad for Jay. He was like—I saw him one day, and I was sitting in my suit and he said, 'I like that.'"
He continued, "So it's an immature thing with young men, and God is not mad. The Bible says it clearly: when you are young, you act foolish and when you get older, if you are smart, you will fix it."
By the time he met his wife, Justine Simmons, Rev. said his wild days were behind him and he's got no desire to go back to being the person he was before he met God. "I did me; I'm not saying I was the craziest, but… Yeah, I was the craziest," he said. "At the end of the day, I'm in a position where I want to keep my wife happy. 'Happy Wife, Happy Life!'"
Tyrese pointed out that when it came to Justine, Rev. Run kept it clean until the wedding night. Tyrese said, "He put it in the book: 'I never touched my wife before I married her. Never kissed her. I never did anything. The first moment that we got married, we made Diggy Simmons.'"
And now that he's a happily married man, Rev intends to stay that way. "Run's House" fans know that there are few places that he goes without his family close by. By choosing to surround himself with the people he loves, he stays focused on how full his life already is, leaving very little room (if any) for another woman to sneak in.
"I don't need more than what I got coming from my wife. That's what fills me. My family fills me up," Rev. Run said. "I don't even get a chance to get women thrown at me because if you see me then you see me with my wife and kids."
Check out Tyrese in the trailer for Fast & Furious 6 when you flip through Daily Buzz 2.6.13 below!
Daily Buzz 2.6.13: Tahiry drops new single
http://s2smagazine.com/wp-content/uploads/2013/02/brunomars_600-400-ryanseacrest-180x180.jpg
http://s2smagazine.com/wp-content/uploads/2013/02/sylvia_rhone_by_marc_baptiste_1-epicrecords-180x180.jpg
http://s2smagazine.com/wp-content/uploads/2013/02/boa_-180x180.jpg
http://s2smagazine.com/wp-content/uploads/2013/02/yandy-smith_0-180x180.jpg
http://s2smagazine.com/wp-content/uploads/2013/02/o-kim-kardashian-baby-bump-570-180x180.jpg
—Sonya Eskridge
Here's more:
Tyrese not sweating radio ban
Tyrese joins 'The Black Nativity'
Tyrese talks to independent women
Tyrese and Taraji team up for new flick