Beyoncé has jetted off to New Orleans to practice for the Super Bowl.
Mere hours after she closed out the Inauguration with The National Anthem in Washington, D.C., Bey was prepping for her next big performance.
The "Countdown" singer was spotted in New Orleans having a dinner date with Jay-Z at one of the city's most famous spots. Bey shared a picture of herself at Mother's via her Instagram account.
Later a fan whipped out a phone just in time to snap Bey and Jay leaving dinner. The diva tried to help the photographer out by flashing a smile, but the shot still came out a little blurred.
With daughter Blue Ivy just celebrating her first birthday, a very lucrative new deal with Pepsi, and a new album on the way, Bey has a lot to smile about these days. Not the least of which is her reunion with Destiny's Child, who will be popping up as part of the Super Bowl half-time performance.
Bey said the girls of Destiny's Child "were my family, and still are my family. Unlike solo artists that started out, my foundation is being in a group and being with other women that needed—we needed each other so much."
She added, "I mean, it's harmony. And we were super tight. We could walk into a room and not give each other the key and sing in perfect harmony. It gives me chills. So that union, that unity, that sisterhood, it is how I grew up.
Until the girls get to New Orleans, she'll be holding things down in the Bayou. Check shots of Beyoncé in New Orleans below!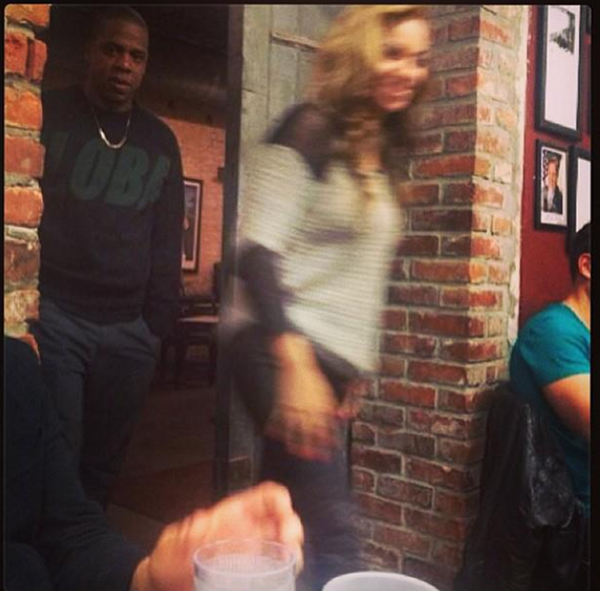 Beyoncé doesn't seem to be tripping about all the hub bub and claims that she lip-synched at the Inauguration. That's probably because the Marine Corps Band has backed off of claims that she wasn't singing live. Get the deets when you flip through Daily Buzz 1.23.12 below!
—Sonya Eskridge
Here's more:
Destiny's Child drops 'Nuclear'
Wendy Williams shades Beyoncé?
'GQ' gets racial for Hottest 100 list?
Beyoncé to share Blue Ivy sonogram